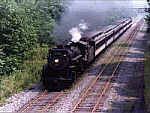 All I know About Building Model Railroads
---
All in all, I learned bunches about how to build layouts from what didn't work on mine. What did I learn?

Practical Advice:
Use homasote or soft pine under your track! I spiked directly into 1/2" plywood and it was a miserable time.
Keep those grades reasonable! I once used 10 to even 12 percent grades and that was way too steep.
Only Fools put turnouts, grades, and curves on bridges at the same time! 'Nuf said.
Philosophical Advice: Apply grains of salt as necessary.
Even a small space can be interesting. I loved an HOn3 layout that was only 30" by 8'. I hope to use a larger version as part of my next layout (honey, the car dosen't HAVE to be in the garage, does it?).
DO IT! I always used to look at MODEL RAILROADER pictorials and say "my layout would look better." Now I have much more respect for the people who actually commit and DO IT! A lot of us get kind of scared to take that step and really build a layout. Execution is always the ruin of that perfect idea in your head but once you accept the reality of your work it will be beautiful (and fun!).
When you have the money, you usually don't have the time.
---